LEAGUE TOURNAMENT 2017/18

Simon Rooks? Paul Hillier/Nilanjana Datta Raj Sangha
Kamiel Papiez Greg Runowski Louis Roper-Gibbs
Daniel Fielding Louis Roper-Gibbs Louis Roper-Gibbs/Helen Arnold
Paul Hillier Maya Malakova/Paul Hillier Louis Roper-Gibbs/ Jakaub Kurowski
Shaun Murray/Helen Arnold Louis Roper-Gibbs Carlos Coutinho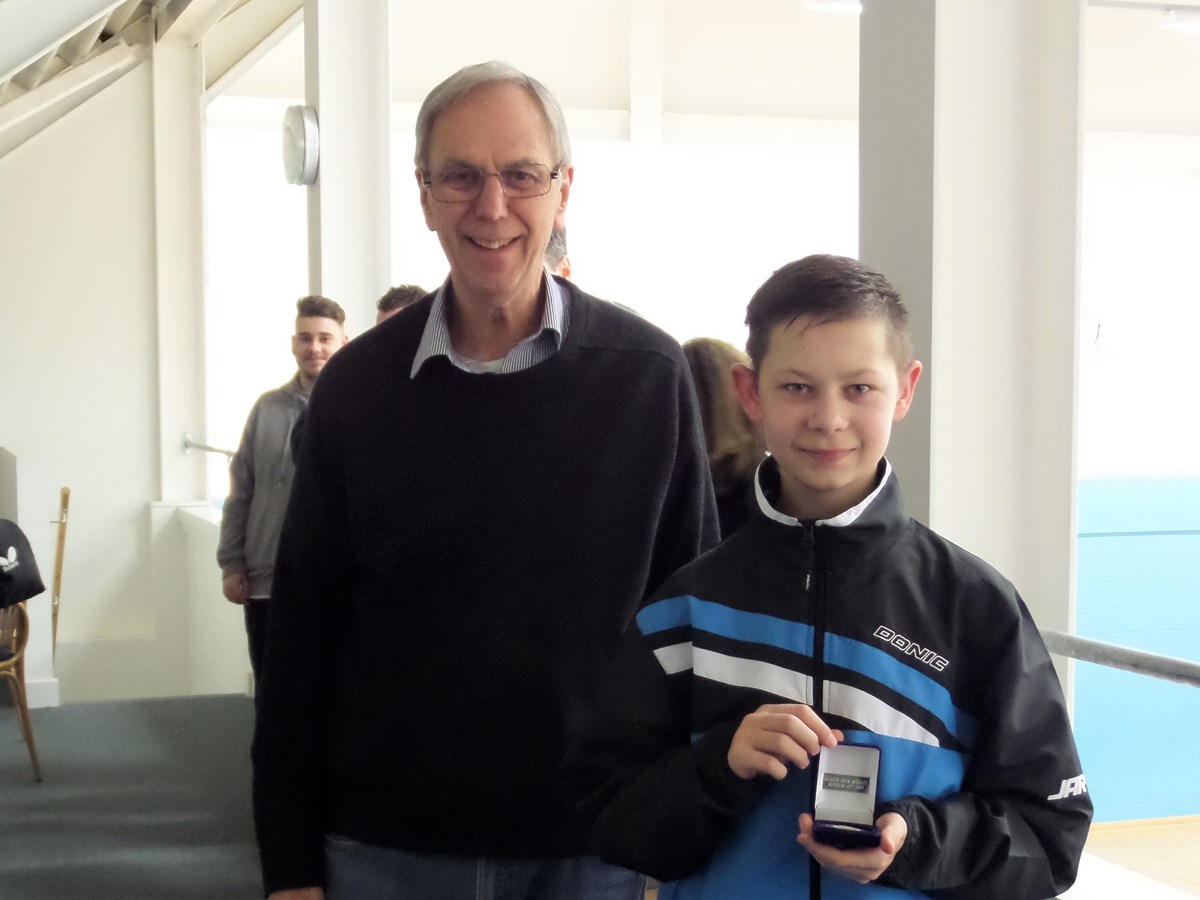 Jakaub Kurowski Simon Rooks?
The Fulbourn Sports Centre on Sunday 28th January 2018.
Play started soon after 9am with the Open Singles groups, with all the top seeds making their way through to the Quarter Finals.
Jakaub Karowski, was first through to the semi-finals with a comfortable three straight victory over Shaun Murray. Daniel Hearn-Potton overcame James Kelly in four close legs.
Daniel Fielding won three straight against both Martin Freeland and then Daniel Hearn-Potton in the Semi Final.
Louis Roper-Gibbs came through the quarter final with Paul Hillier, to play his club mate Jakaub Karowski in an exciting semi-final. Louis lost the first leg, but hit back to take the next three to set up the final with Daniel Fielding.
Louis took the title for the first time over the former champion Daniel in another straight games win.

Helen Arnold recaptured the Ladies Singles title with victories over Maya Malakova, Sylvia Rehakova and Nilanjana Datta.

The young Hunts TTC pairing of Louis Roper-Gibbs and Jakaub Karowski proved too strong in the Mens Doubles, beating Dan Fielding and Shaun Murray in the semi-final and Richard Bellamy and James Kelly in the final.

Another Hunts TTC player Shaun Murray partnered Burwell's Helen Arnold to triumph in the Mixed Doubles over Paul Hillier and Nilanjana Datta.

Paul Hillier recovered from a leg down to become the Veterans Singles champion over Richard Bellamy.

Greg Runowski (St Ives) came back from a leg down to take the Restricted Singles over Simon Rooks (Elsworth).
Louis Roper-Gibbs (-12) hauled back a 24 point deficit to defeat Simon Rooks (+12) in the Handicap Final.

Carlos Coutinho (Cambridge Parkside) and Raj Sangha (Sawston) became the winners of the 3rd and 4th Division Singles respectively.

The final game of the day saw the Men's and Ladies champions Louis Roper-Gibbs and Helen Arnold paired in the Drawn Doubles got the better of Paul Hillier and Maya Malakova.

Many thanks to the Brian Freer, Bob Pettit, Keith Richardson, Danny Bates and other members of the Cambridge League Committee for their hard work before and on the day.
Open Singles

1

2

3

4

5

Louis Roper-Gibbs

bt

Daniel Fielding

11-7

11-6

11-5

Ladies Singles

Helen Arnold

bt

Nilanjana Datta

11-8

4-11

11-9

11-4

Mens Doubles

Jakaub Karowski

bt

Richard Bellamy

11-4

11-9

11-7

Louis Roper- Gibbs

James Kelly

Mixed Doubles

Shaun Murray

bt

Paul Hillier

11-4

11-4

11-7

Helen Arnold

Nilanjana Datta

Veterans Singles

Paul Hillier

bt

Richard Bellamy

8-11

12-10

11-1

11-2

Junior Boys Singles

Louis Roper Gibbs

bt

Jakaub Karowski

11-7

11-3

11-8

Handicap Singles

Louis Roper-Gibbs (-12)

bt

Simon Rooks (+12)

41-32

Restricted Singles

Greg Runowski

bt

Simon Rooks

7-11

11-7

11-5

11-6

Drawn Doubles

Louis Roper-Gibbs

bt

Paul Hillier

11=4

11-4

11-4

Helen Arnold

Maya Malakova

3rd Division Singles

Carlos Coutinho

bt

Kamiel Papiez

11-7

11-7

11-2

4th Division Singles

Raj Sangha

bt

William Wray

11=5

9-11

11-5

9-11

11-9
Last Updated: