Senior League Week 04
Division 1
Lions B moved to the top of the 1st Division table on games difference ahead of their A side thanks to the first 10-0 result of the season in this division, Lions C the side to incur the surprise whitewash. Phil Ogier, Paul Hainsworth (pictured)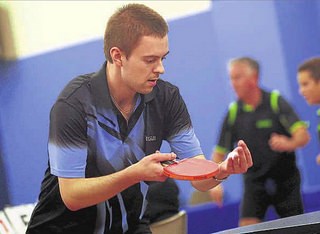 and reserve Matt Stubbington all earned singles wins over Joshua Butler, Alex Robinson and Andre De Carteret. Ogier and Stubbington combined to defeat Butler and De Carteret in a straight game doubles win. Ogier set the tone during his opening match encounter with Robinson as he came back from 2-1 down to win in 5. Stubbington then recovered from losing the opener against De Carteret to win in 4 games and Hainsworth made a comeback of his own, winning in 5 against Butler having trailed 2-1. Ogier's straight game win over De Carteret before the doubles success for the victors made the task almost impossible for the C side and when Hainsworth came past Robinson in 5 games in the following match, the points were claimed. The final 4 dead rubbers were all won in straight games.
Whistlers A moved ahead of their B side into 3rd position after securing a 7-3 win against them. Twins Joshua and Lawrence Stacey won all of their matches during the course of the evening to make sure of the 2 points, each defeating Mark Pipet, Phil Hunkin and Ben Foss in singles competition. The twins paired to defeat Pipet and Hunkin in an epic doubles encounter, 21-19 the score in the decisive 5th end. All of the Whistlers B players defeated reserve Derek Webb, who was standing in for the absent Dawn Morgan. Joshua was on form in his singles matches, dropping just the single end to Foss, however Lawrence had a much tougher time at the office to pick up his 3. He needed 4 ends to come through against Hunkin and Foss and needed a deciding 5th end to ride off the strong challenge imposed by Pipet.
Division 2
There are now only 2 sides left in the 2nd Division with a 100% winning record. One such side is St Pauls A, who currently head the way due to a superior games difference than the other side to win all of their matches thus far, Whistlers D. The St Pauls side ran out 8-2 winners over Lions F this week in a fixture which saw Chas Elliott go throughout the match unbeaten. He beat Rob Vile, Ken Tucknott and reserve Peter Powell, who was standing in for Dave Finn. Maurice James and Trevor Bougaize each defeated Tucknott and Powell, but neither were able to get the better of Vile, who picked up 2 impressive wins. James and Bourgaize teamed well to win the doubles clash against Tucknott and Vile in 4 games.
Whistlers D left it late during a narrow 6-4 win over Lions D, the same score by which they edged Lions E the previous week. They found themselves at 4-4 going into the final 2 matches but made sure of the win with 2 strong performances. Ryan Bichard played a composed match to see off Ian Le Page in straight games before Jez Powell came past Terry Trustum in 4 games. Powell won his previous singles matches against Martin Sarre and Le Page and teamed with Bichard to beat Sarre and Le Page in a straight game doubles win. Albert Unden was the player to pick up the important 6th win as he overturned a 2-1 deficit to see off Le Page in 5.
Division 3
Lions G continue to look like the side to beat in the 3rd as they motored past the defending champions, St Pauls B, 8-2. Jamie and Andrew Ferbrache picked up strong wins over Derek Carter, John Wills and Brandon Ferbrache. Sophie Ferbrache picked up a 4 game win over Brandon and also combined with brother Jamie to see off Wills and Carter 14-12 in the 4th game of the doubles encounter.
Division 4
Lions J maintained their position at the top following a strong 8-2 triumph over Whistlers J this week. Sam Totty and Val Guilbert both defeated Tom De La Rue, Joe Le Page and Erin De Carteret to make sure of the win. Di Le Page defeated Le Page and De Carteret, however she was beaten De La Rue in straight games during the penultimate match of the evening. Le Page and De La Rue also secured a highly impressive straight game doubles win over the strong pairing of Totty and Guilbert.
Author:
Martin Sarre
via Guernsey Table Tennis Association
Article Published:
Last Updated: