ROUND ONE - FRIDAY 24th MAY
Final Divisional Tables at the end of the night second session
Night Points - 10 attendance points less divisional points (Division + position)
Plus an extra 2 bonus points for each divisional winner of the first round of matches in the evening. Div 1 - Marc Winstanley, Div 2 - Michael Bow, Div 3 - Fred Wakefield, Div 4 - Rowan Bayliss
DIVISION ONE
Pos
Player
Pld
Won
Lost
For
Ag
Pts
Night Points
1st
Marc Winstanley
3
2
1
5
3
4
10-(1+1)=8+2=10
2nd
Michael Bow
3
2
1
4
3
4
10-(1+2)=7+2=9
3rd
Laurie Girling
3
1
2
4
4
2
10-(1+3)=6
4th
Simon Baxter
3
1
2
2
5
2
10-(1+4)=5
DIVISION TWO
Pos
Player
Pld
Won
Lost
For
Ag
Pts
Night Points
1st
Fred Wakefield
3
3
0
6
1
6
10-(2+1)=7+2=9
2nd
Andy Guy
3
2
1
5
3
4
10-(2+2)=6
3rd
Nemo Jones
3
1
2
3
5
2
10-(2+3)=5
4th
Michael Rook
3
0
3
1
6
0
10-(2+4)=4
DIVISION THREE
Pos
Player
Pld
Won
Lost
For
Ag
Pts
Night Points
1st
Rowan Bayliss
3
3
0
6
1
6
10-(3+1)=6+2=8
2nd
Andrew Davies
3
2
1
5
2
4
10-(3+2)=5
3rd
Debi Curl
3
1
2
2
5
2
10-(3+3)=4
4th
David Olver
3
0
3
1
6
0
10-(3+4)=3
DIVISION FOUR
Pos
Player
Pld
Won
Lost
For
Ag
Pts
Night Points
1st
Rob Ferguson
3
3
0
6
1
6
10-(4+1)=5
2nd
Josh Redfern
3
2
1
4
3
4
10-(4+2)=4
3rd
Paul Beckley
3
1
2
4
4
2
10-(4+3)=3
4th
Franck
3
0
3
0
6
0
10-(4+4)=2
The new tournament for Newton Abbot TTC regulars, aimed at our Division Four/Five standard players, non league players and beginners, attracted 16 players.
Four divisions of four players were formed based loosely around TTE ranking points, with the higher ranked players starting in the lowest division.
Many really good, close matches ensued, providing excellent competitive games both for our league players and those wanting to progress to play in the league.
The first round of matches on the night saw the top two players in each division promoted with the bottom two relegated, to form the final round of matches which count towards the individuals points tally for the competition. There were fine performances from Marc Winstanley, Michael Bow, Fred Wakefield & Rowan Bayliss in the first round of matches.
In the second, points and award winning round, Rob Ferguson came out top in Division 4, Rowan Bayliss, moving up the divisions quickly, won the third division. The second division decider between Andy Guy and Fred Wakefield saw Fred take the Division Two award, while Marc Winstanley just defeated Michael Bow for the first division title on games difference.
We return to do it all again in two weeks time.

Apologies, i forgot to take any pics, so this one is from last years tournament!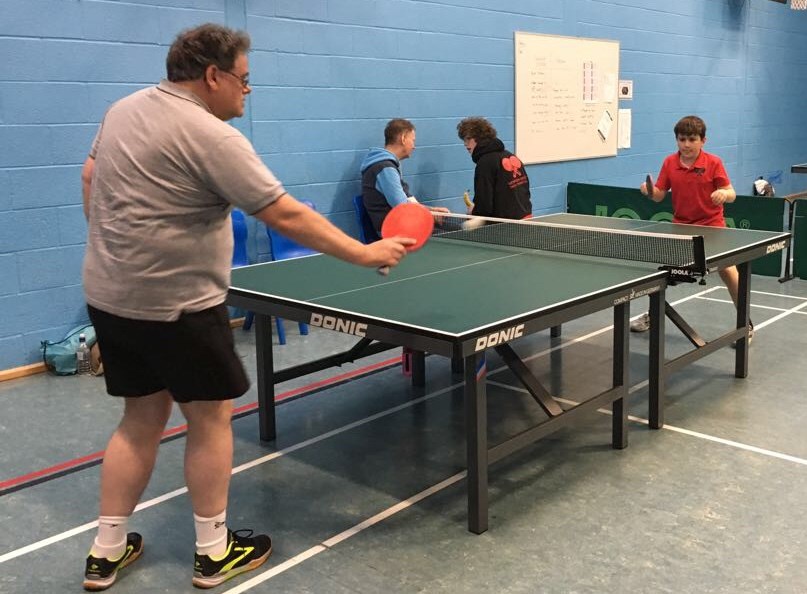 Last Updated: