COUNTY CADETS
2017/18 - NORTHANTS CADETS
Our Northants Cadet team got their 2017-18 County Cadet Championships underway on Saturday November 11th at Draycott Table Tennis Centre in Derbyshire. The team consisted of Bipasha Ganatra and Swati Jethwa (WHDTTA), Shay Graham (Northampton), Jacob Tattersall (Burton Baptist TTC) and Daniel Mann (Chesterwell TTC). The team was once again captained by Henry Arthur.
Northants 4 vs Worcestershire 6
A nervous start by both Jacob (vs Ben Rycroft-Stanley) and Daniel (vs Alex Emms) quickly saw us 2-0 down in our opening match against Worcestershire and with Swati also going down 3-0 to Evie Ellicott, very quickly we were facing an uphill battle and it looked like the score would become 4-0 with Bipasha trailing Abi Ingles 2-0 (6-11, 6-11). A change of tactics by Bipasha though saw her slowly edge her way back into the match to take the third set 11-7. She completed a fantastic comeback win with nailbiting 15-13, 11-9 sets to score a memorable win and get Northants onto the scoreboard.
Shay recorded a 3-1 win over Jesse Bunn and Jacob's 3-0 win over Emms saw us level the match at 3-3. Swati lost out 3-1 to Ingles and Bipasha went down 3-0 to Evie to move Worcestershire to the brink of victory. Shay kept Northants in the match, coming back from 2-0 down to defeat Rycroft-Stanley 13-11 in the deciding set but unfortunately, despite a valiant attempt, Daniel couldn't quite get the win that would have given us the draw, losing out 12-14, 8-11, 11-6, 10-12 to Bunn.

Lancashire 9 vs Northants 1
A strong Lancashire team saw Northants succumb to a devastating 9-1 defeat in their second match of the day. Jacob picked up the solitary win with a fine 3-0 victory over Ben Strapps. Daniel came close to adding a second point but Strapps just held on to oust him 3-2. Jacob (vs Daniel Watkinson) and Shay (vs Matthew Westworth) both managed a set in their 3-1 defeats with all the other games finishing 3-0.

Norfolk 7 vs Northants 3
A much more competitive performance from the Northants youngsters which on another day could have seen us get at least a draw and possibly even a win.
Daniel kicked off proceedings and lost narrowly in four sets to Archie Raynor. Jacob then lost a fascinating five set battle to Finlay Hewson 8-11, 11-4, 9-11, 11-9, 9-11 before Bipasha lost her own tight five set match11-9, 6-11, 11-6, 12-14, 9-11 to Darcey Brewer as we slipped 3-0 behind. Swati lost to Ella Barnard 3-0 before Shay delivered a morale boosting 3-1 win over Alex McRobie. Daniel then saw off off Hewson to reduce the deficit to 2-4.
Swati and Bipasha lost 3-1 and 3-0 to Brewer and Barnard as our opponents took an unassailable 6-2 lead. McRobie proved too strong for Jacob as we slipped 7-2 behind. Shay limited the damage with a fluctuating 13-11, 3-11, 8-11, 11-6, 12-10 win over Rayner.

Overall, it was a disappointing day. I felt our boys never really showed their true potential as I know that all three can play much better than they did on the day. It was always going to be a difficult day for Swati and Bipasha as they stepped into the shoes vacated by Anna Wilson and Evie Elliott who are now too old for the cadets but I must give both girls credit for their battling performances, topped off by Bipasha's comeback win vs Worcestershire.
With the final round of matches to be played in December, it does not give the players and coaches much time to work on some of the issues that arose from these matches. And as we all know, hard work, dedication and commitment is the only way we will improve at anything we do.

Henry Arthur (Team Captain)
The County Cadet team that represented Northamptonshire on 11 November 2017 was from left to right Jacob Tattersall, Swati Jethwa, Shay Graham, Bipasha Ganatra and Daniel Mann.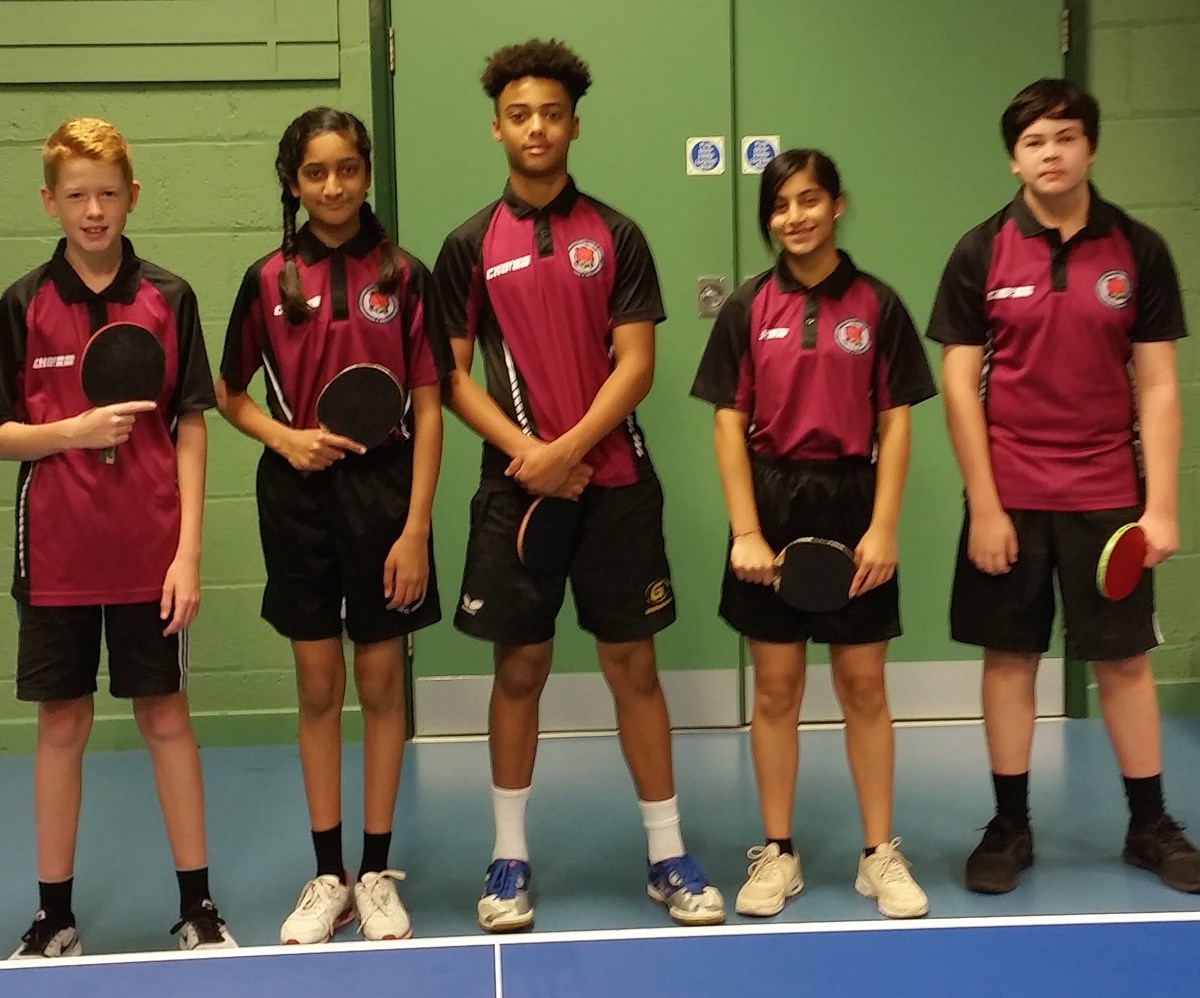 Last Updated: