Cornilleau Outdoor Ultradurable White Plastic Ball (Pack of 6)
A super durable outdoor plastic ball from Cornilleau. Pack of 6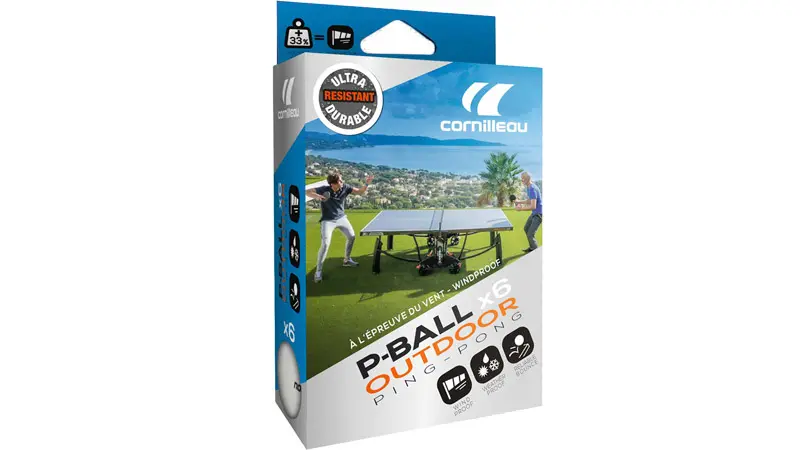 Cornilleau Outdoor Ultradurable White Plastic Ball (Pack of 6)
A super durable outdoor plastic ball from Cornilleau. Pack of 6
In Stock

Order now for fast delivery
Why
Reasons to
buy from us
Ask A Question
Our friendly staff are available to answer your questions 8am to 8pm, 7 days a week.
Ways to pay
Ordering from us is easy. We accept all major credit and debit cards and also offer the facility to pay by bank transfer or cheque.

Brand Information

Cornilleau strive to offer a fun and exciting table tennis experience to everyone. Their products are developed to the highest standards, taking advantage of the expertise of professional players, strategic partners and an expert team of engineers who constantly innovate and bring world leading products to market.
Cornilleau are a well-known and trusted brand in table tennis. They design products that have a distinctive design which sets them apart from other brands. From the development of the resin laminate playing surface to the patented 'compact technology' folding concept and the DSI safety system, they have raised the ergonomics, safety and design of tables within the industry.
All Cornilleau tables are developed and manufactured in France in the Cornilleau family's native village of Bonneuil-les-Eaux, Picardy. Did you know that Cornilleau is actually pronounced "Corn-ee-oh".
Since the creation of their first table in 1968, Cornilleau has been developing and constantly improving the product range, allowing them to reach the global market and enable international growth. Today, Cornilleau is a leader in the Table Tennis market, exporting to 75 countries across the 5 continents.